About Southern Sisters Bakers
Our Cookie business began as The Charleston Cookie Co. in 1986, and we were originally located in the Market Gourmettesserie on Church St. For over twenty years we have maintained a retail location in Downtown Charleston at the Historic Market on Church St. and Market where we provide our customers with the absolute best Benne Wafer's and Tea Cookie's in Charleston.
We are family owned and operated and my sister and I (the southern sisters) are currently taking over the business and   plan to take it into the next era with New Product Releases and the Grand Opening of a Summerville Retail Location which will be the only All Natural Bakery in Summerville.  I am Jaclyn and my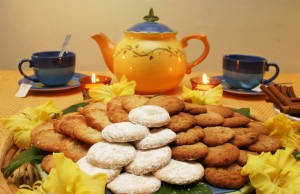 sister is Sarah and we are the Southern Sisters, because we both believe in creating delicious cookies without any chemicals or fillers. I am a mother of two and I can feel good letting my children have our cookies as a well earned treat. We never use any hydrogenated oils or Trans fat, just Butter, Eggs, Sugar, etc…
Benne Wafers 3oz
Many others claim to have the original Benne Wafer Recipe, but don't be fooled. Our Benne's are not like the mass-produces cookies you find at the Grocery Store, they are delicate and their flavor is unsurpassed.
We are proud to be the only bakery anywhere that makes our Benne Wafer's from a Handmade mix with All-Natural ingredients. Our recipe and method is as close as you can get to the same Benne Wafers made on our local plantations over 300 years ago.
We hand-make our Benne Wafer as well as all of our other scrumptious treats with only all natural ingredients, including Butter.
Our Benne recipe and "Clean" Baking methods produce the thinnest crispest melt-in-your-mouth wafers anywhere. We have been selling Benne Wafers Downtown Charleston for over 20 years consistently under the same ownership with the same Recipe. If you've been through the Historic Market or the Farmers Market then it was most likely ours that you tried.
Benne Wafers are a sophistated treat and can be served with coffee or tea, as a dessert, like a cracker with a cream cheese or jelly topping, and it's great with ice cream. Many people use the crumbs for a breading for fish or crumble the cookies to make a pie crust. Beware they are Addictive!
History of the Benne Wafer
Over 300 years ago, West Africans were taken from their home country and forced into slavery, they managed to bring a very small amount of "sesame" seeds with them. Only a few handfuls made the jouney but it was considered very lucky. They used the seeds for may things including breads and the oil was used for cooking. They actually introduced the Sesame Seed into the Charleston area for the first time and it was considered Extremely lucky.
They named the Sesame Plant "Benne Plant" because "Benne" was the West African word for Good Luck. The recipe for Benne Wafers began to spread and it is known that when Plantation Owners had Large Parties, their Guests took Benne Wafers home as a sign of good luck. To this day people that travel to Charleston make it a point to bring back Benne Wafers as a sign of good luck caring on this wonderful tradition.